You're probably here because you found your Aternos account being suspended.
Why is my account suspended?
We suspend accounts if they violate our terms of service.
The reason for your suspension is displayed on the login page when you try to log in: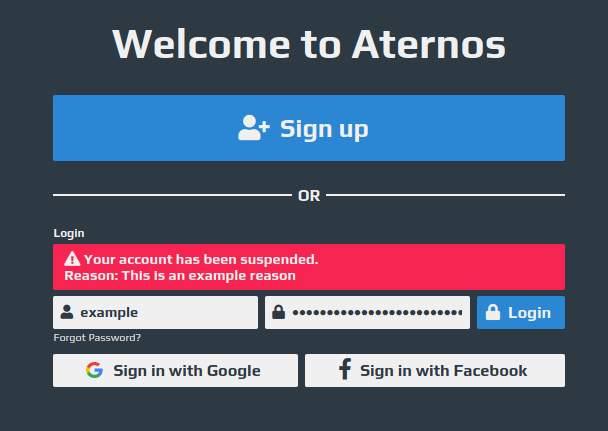 ➔ Especially "§5 - Abuse and limitations" of our terms of service contains common reasons for an account to get suspended.
➔ Please understand that it is your responsibility to make sure that your server, your players, and people with shared access to your server comply with these terms.
What happens with my account/servers now?
Your servers will be shut down if they are running, and all logged-in devices will be logged out of the account.
Accessing or downloading server files is not possible.
Created backups by the suspended account can't be restored on other servers anymore.
Other accounts with shared access will lose their access to the servers.
Seven days after the suspension, your servers will get deleted. Your account won't be deleted, but will stay suspended permanently.
How can I appeal my suspension?
You can appeal if you're certain that you did not violate our terms of service. Please email support@aternos.org to do so. This is only possible within the first seven days after your account has been suspended.
➔ Make sure to provide the username of the suspended account and/or the address (IP) of your server!
Our support staff will check if the suspension was correct. If there is any indication that the suspension is not justified, we will lift the suspension from your account. Otherwise, it will remain suspended, and the data will be deleted as described above.
The Aternos support can't give you any more information about the suspension than what is already shown to you when you try to log in.